Reimagining Access
A 14 week project for Designmatters transdisciplinary course: Reimagining Access. Spring 2021
John Ma
Interaction Design
Elizabeth Costa
Interaction Design
Anthony Palileo
Interaction Design
How can designers work with people with disabilities to improve the user experience of digital archives?
Digital archives, libraries, and other information systems could be better designed for assistive technologies such as screen readers.
A new framework designed for improved access
A blocked information structure provides more effective navigation when using assistive technologies.
Hidden links for each block provide visitors with high level context.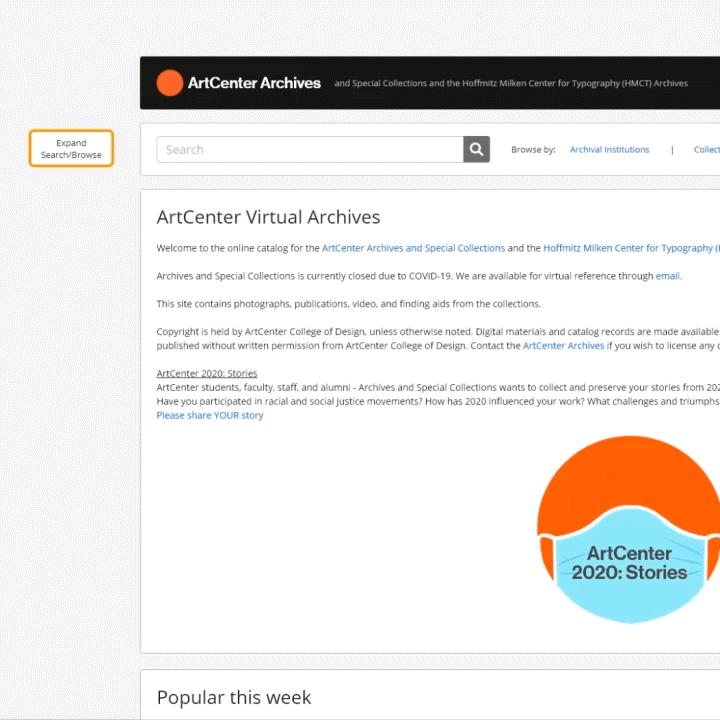 Visitors may dive deeper into select blocks to further navigate their contents.
See the prototype in action
*Play with sound on for full proposed experience
**Reader speed reduced for prototyping purposes
Testing the prototype using a gesture based microcontroller.
This supports our belief that alternate input devices such as speech input software, head pointers, motion or eye tracking, or single switch entry devices would benefit from this new design system.
We primarily focused on the use of screen readers for digital interfaces and perception of information
This was my first time prototyping with Adobe Xd's text-to-speech feature
I built this gesture input device using an Adafruit Bluefruit board and a pair of proximity/ gesture sensors
Design informed by user insight
"[Online Archives] don't organize information in a way that really supports discovery, and so you find that you have to use a lot of cross referencing"
— Interview Participant
​
The proposed block structure aims to address ease of discovery.
"One challenge is that I find there are usually not very many functional navigational links... Typically screen readers read from top to bottom, and left to right."
— Interview Participant
​
Single column arrangement aligns with perception of information, and added hidden links provide high-level access to content.
"I have my main laptop and then I have 2 monitors so I guess that's like 3 screens? So I can kind of sort and categorize screens and big buckets of information."
— Interview Participant
​
"Blocking" the information serves to lighten the cognitive load on visitors.
This arrangement leans into our familiarity with mobile interfaces as well
Redesigning the archive with a central focus on accessibility created a system that could benefit all users
Research and process
Evaluating the current archive against Web Content Accessibility Guide (WCAG)
Comparative analyses of other archives and libraries
Through participatory design practices we gained deeper understanding of our users' experiences and designed with them, rather than for them.
Michigan State University's Institutional Review Board provided us with an opportunity to interview and conduct exercises with users of various ability to gain insight on their experiences with assistive technology and digital information systems.
Card sorting exercises provided insights around information structure and the importance of detailed descriptions.
An interface "rearrange" exercise revealed organizational systems that informed the interface design.
The supporting frame-work of the existing archive featured some accessibility features, but had a lot of room for improvement
We found many sites already had some level of accessibility and we sought to take these ideas further
Special consideration was taken to conduct our interviews and exercises according to our participants' unique abilities
Digital whiteboarding platforms allowed us to interact and collaborate with participants both near and far
Coding the interviews served to identify patterns and further distill insights.
This project raised my awareness of the need for greater accessibility in digital interfaces and information systems and heightened my sensitivity to various user needs and their potential intersectionality. I truly believe that accessibility should be a core tenet in all design.
Special thanks
Institute of Museum and Library Services
Michigan State University
ArtCenter College of Design's Archives
ArtCenter College of Design's Designmatters Program
The wonderful participants who provided us with a glimpse into their experiences
My trio of supportive instructors Todd Masilko, Elise Co, and Joshua Halstead
Our resident archivist extraordinaire Robert Dirig
Of course my brilliant teammates Elizabeth Costa and John Ma